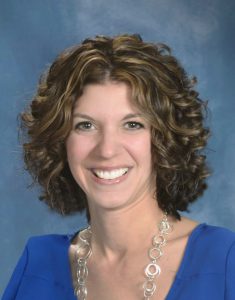 Kristina R. Leavell, PA-C, RPh
Dear Patient,
It is truly an honor to introduce myself as I join Credo Family Medicine. I am Tina Leavell, a physician assistant in family medicine for the past 13 years. I grew up in Auburn and was guided by parents who always showed such selfless service to others. I believe this example of service to others nurtured my calling in healthcare. I can remember in first grade dreaming of what I wanted to be when I grew up, and envisioning sitting beside someone, holding their hand, helping them understand why they feel the way they do. This vision never faded as I went off to Purdue University.
At Purdue, I declared my major in pharmacy and continued to investigate options for graduate school. I obtained my Bachelor of Science degree in Pharmacy and Pharmacal Sciences, married my husband, Parry (also a proud Purdue graduate!), and came back to my hometown to serve my community as a pharmacist. I continued to feel the call to further my education, as I wanted more hands-on interaction with my patients than pharmacy provides. It was during this time, I decided to become a physician assistant, as it offered such a unique model of patient-centered care while forming a team with a caring physician. I graduated with a Master degree of Physician Assistant Studies from the University of St. Francis in 2004 and have practiced family medicine since that time. I have never wanted to practice in any other area of medicine. Family medicine offers the opportunity to care for patients of all ages and develop a very unique relationship within the patients' family structure. I love seeing a family, from the young grandchild to the grandparents! I seek to serve my patients with dignity and attention to detail.
My husband and I continue to reside in Auburn with our adopted son, Luca. We both serve in various community service capacities within the area and are active members at Immaculate Conception Catholic Church in Auburn. I am proud to be a founding board member of Women's Care Center of NE Indiana, a not-for-profit crisis pregnancy center, and also serve as the co-medical director of the center. My husband and I wanted this center to help support mothers who find themselves in the midst of an unplanned pregnancy. We saw the fruits of showing these mothers unconditional love during our own adoption journey to Luca. We also thoroughly enjoy mentoring families as they start their own adoption journey.
I have served 8+ years on the executive board of St. Martin's Healthcare, a not-for-profit clinic serving uninsured/underinsured patients of DeKalb and Noble Counties. I try to stay in touch on the educational side of my profession, and have served 10+ years on the advisory board for the PA program at the University of St. Francis.
I enjoy photography, traveling to Naples, Florida to enjoy the beach, attending country concerts with my husband and friends, and watching sports (especially Purdue!) with my family.
I am eager to meet each and every one of you! I look forward to, and humbled by, the opportunity to give you and your family loving care to the best of my abilities.
Sincerely,
Tina Leavell, PA-C, RPh