David J. Moran, M.D.
To all of my existing and future patients,
My name is David Moran and I am absolutely thrilled to be joining Credo Family Medicine.  As a native of Fort Wayne, Indiana, my education began by attending St. Jude Catholic grade school and Bishop Dwenger High School before graduating from Indiana-Purdue University of Fort Wayne with a Bachelors of Science degree in Biology.  I was privileged to obtain my Doctorate in Medicine from Indiana University School of Medicine, and after which returned to my home town to complete my family medicine residency in 1997.
As the oldest of four children, I grew up in a home with strong Catholic Christian values and a background in healthcare.  I credit my desire to become a physician (since the age of 9) to witnessing my mother's dedicated patient service as an obstetrical nurse.  She practiced her Catholic faith at St. Joseph Hospital for 50 years, caring for the poor and underprivileged of our community.  After my own experience as an orderly and radiology transporter at the same hospital, I discovered my true passion of helping and serving others.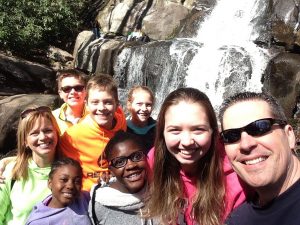 Wishing to build and nurture a practice in Fort Wayne, I joined First Care Family Physicians where I worked in a three-physician office on North Clinton Street for over 10 years.  In 2008 our group was one of the first to join the Parkview Physician Group network of medical specialists, and with them I continued my practice on New Vision Drive for the last 10 years.
My decision to join Credo Family Medicine ultimately stems from my simple desire to enjoy more family and free time, while returning to the "old ways" of the more intimate, personalized care of a small office, enriched in the fulfilling culture of faith and family.  I hope to maintain all of the longstanding patient relationships that have grown over the last 20 years through what I believe is the shining central aspect of family medicine – the continuity of care from birth through adulthood.  I truly appreciate the opportunity to continue practicing medicine as a Catholic physician even more fully at Credo.
I would like to introduce my amazing family to the Credo community.  My wife, Kathy, and I have six children (currently ages 8 to 17) with two sons (Joseph and Michael) and four daughters (Gabrielle, Emilienne, Elizabeth and Aniata). Kathy and I love attending their various sporting events and activities from soccer, basketball and volleyball, to show choir and robotics.  We are blessed to be active members of the St. Vincent Catholic Church community, and I enjoy serving as medical director of the Fort Wayne Women's Care Center.  My personal interests include collecting decorative swords and dragons, pursuing all things related to the Lord of the Rings, and fanatically cheering on the Indianapolis Colts.
Thank you for the honor of serving as your physician.
Stay healthy and go Colts!!
Dave Moran, MD