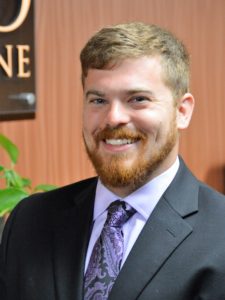 Nicholas M. Lesch, PA-C
Dear Patients of Credo Family Medicine,
I would like to take some time to tell you about myself.  My name is Nicholas Lesch and I am a Physician Assistant on the Credo Family Medicine team.  I am thrilled and honored to provide care for you and your loved ones.  Thank you for entrusting us with such a profound privilege.
I grew up in Indianapolis as the third of seven children; 6 boys and 1 girl.  Faith, family, and education were very important to my parents and I am fortunate to say that they remain of great importance in my life today.  As a child, I was always intrigued by the sciences.  I was also rather wild and frequently found myself in need of medical care for stitches, sports related injuries, or illnesses that my mother told me were brought on mostly by pushing myself too hard.  I've always been very determined, and as Christ said, "The spirit is willing, but the body is weak."  These childhood experiences sparked a flame within me for a career in healthcare.
I attended Indiana University Purdue University of Indianapolis for my undergraduate career.  The medical profession continued to intrigue me and I set a course to major in Biology with the intent of attending medical school.  While a full-time student, I also worked full-time nights for a couple years at Riley Hospital for Children.  At this time my interest in medicine transformed into an overwhelming calling and my love for pediatric medicine became evident.  In biology lab I met my beautiful wife, Maria.  She introduced me to the medical profession of a Physician Assistant (PA) through her brother, an orthopedic PA.  I was very interested.  As a man keen on starting a family and practicing medicine as soon as possible, PA school was the perfect choice.  I majored in biology and minored in chemistry and Spanish at IUPUI.  The same week of my graduation from IUPUI, I began PA school at the University of Saint Francis in Fort Wayne.
 During my time in PA school my wife and I were married and 9 months later were blessed to welcome our daughter Emma to the family! We are currently expecting our second daughter, due in July. As a science teacher at New Haven High School, Maria inspires her students in classes such as biology, chemistry, anatomy and physiology, and human body systems. She enjoys when Emma and I visit her classroom to assist in special anatomy labs or lectures. We are members of St. Vincent Catholic Parish and we are excited to see what lies ahead. God willing, we aspire to travel with our family to places such as Haiti, India, or Africa on mission work. We have been on missions together as students and hope to continue now as professionals.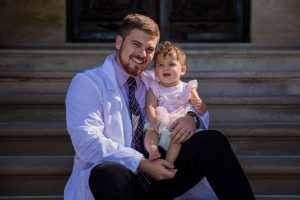 As a Physician Assistant, I have been trained in general medicine and can practice in almost any specialty.  I attended rotations in a wide variety of medical fields.  While pediatrics continues to be one of my greatest passions in medicine, I have come to deeply appreciate the importance of family practice.  And so, I would like to welcome new patients into the family here at Credo and I would like to thank established patients for accepting me as a member of the team!  I am so thrilled to find a practice centered around care of the entire person: body, mind, and soul.  My family and I are very blessed to be here and I hope to provide compassionate, patient-provider centered care.
Sincerely,
Nicholas Lesch, PA-C